Unbelievable…is crime so low in West Virgina that cops have nothing better to do than bust people for harvesting ginseng? I think not.
This isn't about illegally harvesting ginseng, it's about money and keeping us in debt slavery. Period. I'm curious what the illegal drugs consisted of – personal marijuana stash? Couple tablets of Viagra? No details listed below, if it were anything significant related to trafficking that would boast about that too….yes, the U.S. has become a police state, no doubt about it. Solutions are out there, it's a matter of the One People, the 99% standing in their sovereign power and reclaiming control.  Have a blessed day…Annette
Posted: Sep 18, 2014 1:34 AM PST
By Kayla Lambert
I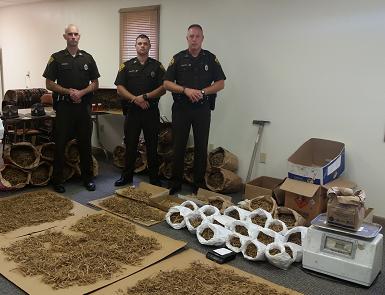 llegal ginseng bust
BECKLEY (AP) — West Virginia natural resources police say they have made 11 arrests and seized 190 pounds of dry ginseng that was illegally harvested.
The West Virginia Department of Natural Resources estimates the market value of the native herb at $180,000.
The department said Wednesday the arrests followed a year-long investigation in southern West Virginia. Besides the ginseng, they said they also seized stolen guns, illegal drugs and $30,000 in cash.
West Virginia has a ginseng digging season. It begins Sept. 1 and runs through Nov. 30.
The department says the seized ginseng was harvested before the digging season began.
Ginseng long has been coveted in many Asian cultures because the plant's gnarly, multipronged root is believed to have medicinal properties.
Natural resources officials say demand has spurred illegal harvesting.
http://www.wvva.com/story/26563681/2014/09/18/police-seize-190-pounds-of-illegally-harvested-ginseng