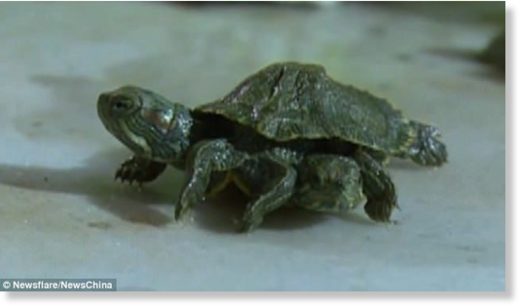 A bizarre video shows a baby turtle with two heads and six legs found in north China's Shanxi Province.
Footage shows the baby red-eared slider with two heads and six legs as it moves around normally.
Researchers from Shanxi Medicine and Life Science Academy told Chinese media that it was 'caused by genetic mutation, just like a human.'
Mr Wang, a reptile shop owner told Shanxi Metropolis Post that he bought a box of red-eared sliders from a wholesale market on March 29.
Surprisingly he found a baby turtle with two heads and six legs among the other turtles. However, the little red-eared slider can move and eat like just like the others.
'All the legs are moving and all the eyes are blinking. It eats normally and I believe this baby turtle is about two to three months old,' Wang told reporters.
The discovery has drawn neighbours to his shop but most of them said: 'I haven't seen the turtle with two heads.'
Some suggested water pollution triggered a mutation to this turtle.
A red-eared slider turtle can usually live for 50-70 years.
It is unknown how long the mutant turtle will live for.