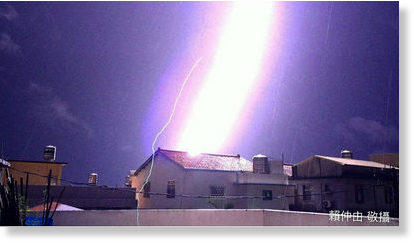 Late rock star Prince was famous for his song "Purple Rain," but did you ever see purple lightning?
Taiwanese nature photographer Luis Lai (賴仲由) did, and he captured it on his smartphone.
Friday night, as extreme torrential rains were battering large parts of Taiwan, Lai went to the top floor of his home in the Changhua County village of Dacun (大村), reports said.
He only wanted to check whether all the doors and windows were ready to withstand the rain, but in addition, he saw bolts of lightning and hurried to record six seconds on his smartphone as it struck behind a red-roofed building in his neighborhood.
Weather experts said that purple lightning usually only occurs at high altitudes, and is rarely seen so close to the ground. At the origin could be differences in temperature and substances in the air, they said.
In this case, the bolt of lightning could have originated high in the clouds but extended its reach and its original color down to the ground, experts said.